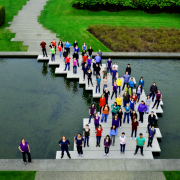 Welcome to the Simon Fraser University Choir!
While the majority of our members are based around the SFU community, music knows no boundaries, attracting members throughout the Lower Mainland.
With its humble beginnings in 1992, the choir has grown over the years in all aspects– musically, in its membership, and by its presence in the broader community. We attribute our longevity to an ability to strike a balance between a variety of music - from Game of Thrones and Lord of the Rings, to African and gospel music and a full-fledged Requiem mass.
Is the SFU Choir for you? Click "listen" to check out past performances.
Ready to experience the joy of creating the glorious unity of a cohesive chorus? Click "Join Us!" for details on upcoming rehearsals and other need-to-know information.
We look forward to seeing you!